1. ANY 3 - BAD DRIP / CLOWN - NIC SALTS - All FLAVOURS - 10MG 20MG - 50VG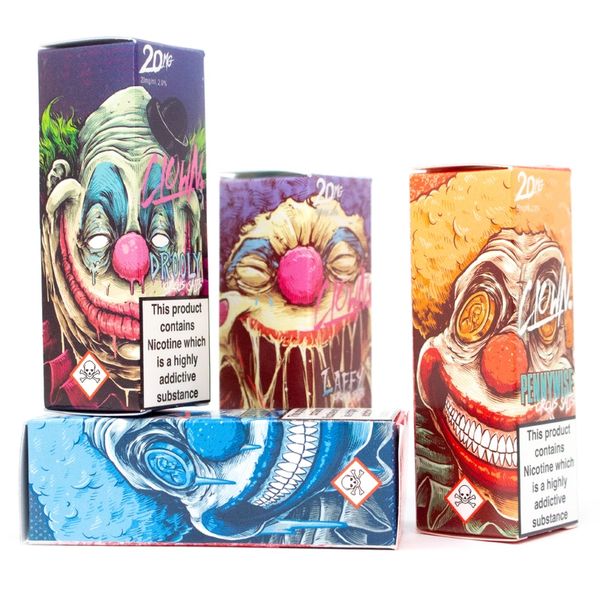 1. ANY 3 - BAD DRIP / CLOWN - NIC SALTS - All FLAVOURS - 10MG 20MG - 50VG
10ml 50VG - 10mg 20mg nicotine - FREE same day shipping with bbbliquids
(This e liquid will work inside any e-cigarette device)
 

What is Nicotine Salt?
At its core, nicotine salts are comprised of the same exact nicotine that's found in its natural state within the tobacco leaf. 

Meaning that Nic Salt e liquids put other standard nicotine based e liquids to shame.
You will receive a more satisfying nicotine hit!
Nicotine salt e liquids are extremely smooth to vape


BAD DRIP / CLOWN NIC SALTS 10MG 20MG 50VG/50PG


PENNYWISE
Strawberry, watermelon bubblegum.


PENNYWISE ON ICE
Strawberry, Watermelon bubblegum with menthol.


DROOLY
Grape, mixed berry hard candies.

LAFFY
Fruity taffy, sweet, sour & tangy.

BAD APPLE

Green and red apples with a candy exhale.


DONT CARE BEAR
Sweet fruity gummy candy.


FARLEY'S GNARLY SAUCE
Kiwi, strawberry bubblegum candy.


BAD BLOOD
Blueberries, pomegranates with a hint of vanilla.









Brand: 

 Bad Drip / Clown


VG/PG Mix:

  50/50


VG Percentage:  

50%


PG Percentage:  

50%


Volume:

  10ml X 3


Country of Origin:

USA