1. 10ml x 10 100ml - DRAGON DEN ELIQUID- ANY 10 - 50VG - 3mg 6mg 12mg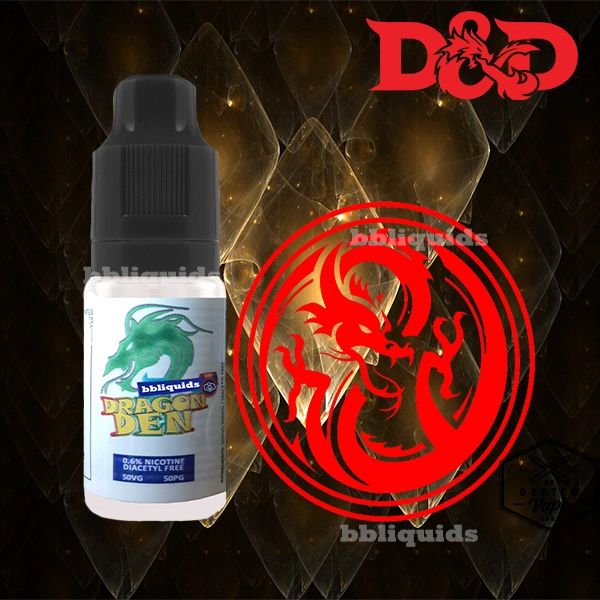 1. 10ml x 10 100ml - DRAGON DEN ELIQUID- ANY 10 - 50VG - 3mg 6mg 12mg
Dragon Den – Pick any 10 - 10ml bottles – 50VG FREE SHIPPING 3mg 6mg 12mg 10ml at bbliquids
ALL FLAVOURS ARE
AVAILABLE
IN 3mg, 6mg & 12mg
This item will work with any Ecig, from budget pens to high end mods.

Darkside
The sweet fruit and creamy flavour has been developed to provide the taste sensations of a sweet fruit punch cocktail for a fruity and decadent vaping experience. This tastes like a luxury Unicorn blood eliquid.

Fearsome Flames
Let's just chill with this refreshingly fantastic blend of strawberry and icy menthol that simply rules!
Fire Step
The amazing fusion of juicy summer fruits will make your vaping experience truly sensational. Strawberry, raspberry, blackcurrant & blueberry, plus afew more mouth watering flavours.

Frost Breather
Enjoy the tantalizing taste of freshly picked blackcurrants with a cold menthol breeze. This Liquid tastes exactly like blackcurrant cough sweets (but lightly sweeter).

Jagged Scales (Heisenberg)
The Heisenberg e-juice features a top secret flavour combination which includes a fruity undercurrent and a cool menthol crystal finish to provide a fantastic all-day vaping experience.

Sky Bolt
Skybolt E-Liquid emulates the taste of vanilla custard, fresh and creamy with a sweet tone on the exhale.

Star Gazer
Amazing strawberries and cream with an exhale of sweet vanilla, what isn't there to love about this?

Ripper


Traditional banana taste is not over powered by the kiwi or strawberry, just perfectly balanced for a decadent vaping experienc

e.
Brand:

Dragon Den


VG/PG Mix:

50/50


VG Percentage:

50%


PG Percentage:

50%


Volume:

10ml x 10


Country of Origin

:

United Kingdom