DOUBLE DRIP NIC SALT - ANY 4 DEAL- - 50/50 10mg 20mg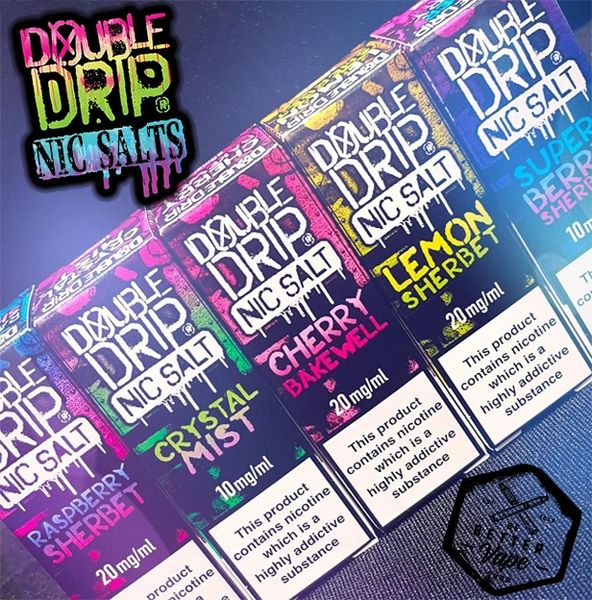 DOUBLE DRIP NIC SALT - ANY 4 DEAL- - 50/50 10mg 20mg
10ml 50VG - 10mg / 20mg nicotine - FREE same day shipping with bbbliquids
(This e liquid will work inside any e-cigarette device)
What is Nicotine Salt?
At its core, nicotine salts are comprised of the same exact nicotine that's found in its natural state within the tobacco leaf. 

Meaning that Nic Salt e liquids put other standard nicotine based e liquids to shame.
You will receive a more satisfying nicotine hit!
Nicotine salt e liquids are extremely smooth to vape


DOUBLE DRIP


Cherry Bakewell
Based on the classic British dessert; raspberry jam,
sponge cake and sweet icing.


Crystal Mist
Blue raspberry and black cherries mixed in with menthol.


Lemon Sherbet
Zesty lemon with a fizzy sherbet, ideal for sweet lovers.


Mango Raspberry Ice cream
Juicy mango and sharp raspberries blended
with smooth vanilla ice cream.


Menthol Mist

Cool menthol with a peppermint twist.


Raspberry Sherbet

A fizzy, tangy mix of raspberry and sherbet.


Super Berry Sherbet
Bursting with the flavours of seven berries
and a sherbet fizz.


Brand: 

 Double drip


VG/PG Mix:

  50/50


VG Percentage:  

50%


PG Percentage:  

50%


Volume:

  10ml X 4


Country of Origin: 

UK