ANY 4 DEAL - FANTASI - Nic Salt E Liquid - 50VG 10mg 20mg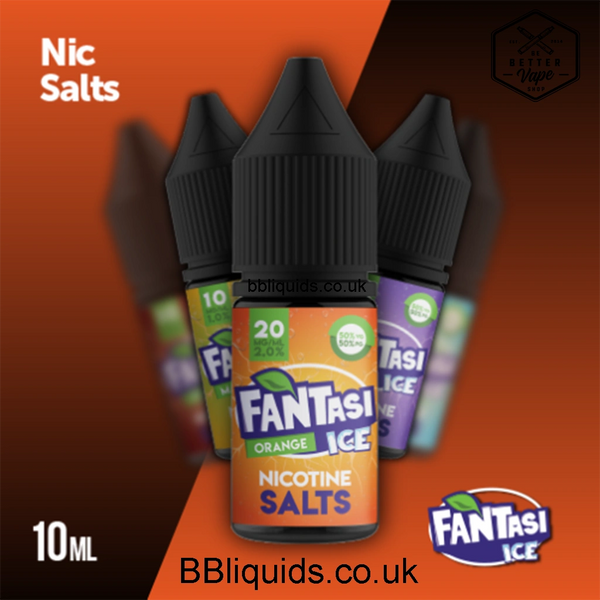 ANY 4 DEAL - FANTASI - Nic Salt E Liquid - 50VG 10mg 20mg
10ml x 4 50VG - 10mg 20mg nicotine - FREE same day shipping with bbliquids 
(This e liquid will work inside any e-cigarette device)


FANTASI FLAVOURS


COLA ICE
Inspired by the two best soft drinks of all time, we have taken the unmistakable fizz and freshness of Fantasi and infused it with the king of all soft drinks, the legendary cola.
GRAPE ICE
Take the bold and juicy grapes, add the fizz, and super cool it for an added frozen blast that can only be experienced with the Fantasi Grape Ice nic salts.
LEMONADE ICE
To create our Lemonade nic salts, our mixologists took fresh, zesty lemons and just the right amount of sweetness that feels as though it was poured over a generous serving of crushed ice.
MANGO ICE
If you're looking for the refreshing everyday taste of our Fantasi mango with an icy blast, then look no further! Our refreshing Mango Ice is the nic salt you've been looking for.
ORANGE ICE
You all know this one. Luscious juicy oranges with an unmistakable fizzy soda twist, finished with a crushed ice sensation. 









What is Nicotine Salt?
At its core, nicotine salts are comprised of the same exact nicotine that's found in its natural state within the tobacco leaf. 

Meaning that Nic Salt e liquids put other standard nicotine based e liquids to shame.
You will receive a more satisfying nicotine hit!
Nicotine salt e liquids are extremely smooth to vape.




Brand: 

 Fantasi


VG/PG Mix:

  50/50


VG Percentage: 

50%


PG Percentage: 

50%


Volume:

  10ml x 4


Country of Origin: 

UK