60ml Fresh Farms - Morning Melon - 0mg 3mg 65VG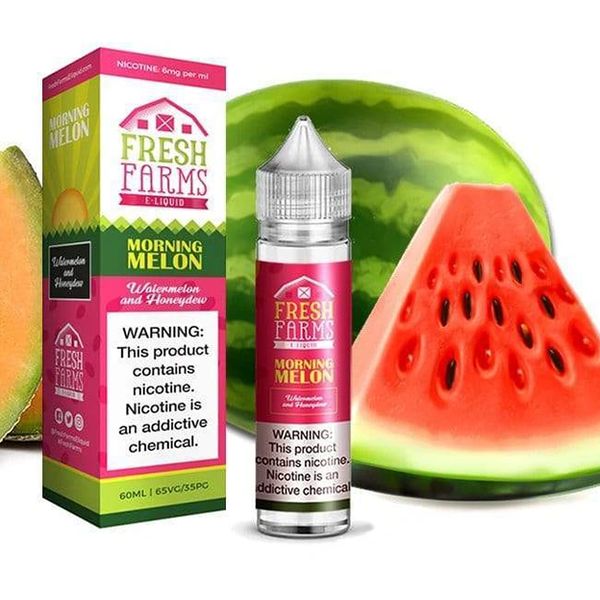 60ml Fresh Farms - Morning Melon - 0mg 3mg 65VG
60ml bottle with 50ml of e liquid - Available in 0mg / 3 mg - This e liquid is only suitable for sub ohm devices. FREE same day shipping at bbliquids
If 3mg is selected you will also receive 1 x nicotine shot bottles.
About Fresh Farms
Made in California , Welcome to Fresh Farms e-Liquids, a California e-liquid manufacturer churning out THE freshest, fruitiest e-liquid products around. What started out as nothing more than a dream, burst into the e-juice scene as a leading e-liquid brand.  As purveyors of hand-crafted e-liquid flavors exploding with ripe flavors of fresh fruits, we guarantee you a taste that will Tantalize your Tastebuds.
FLAVOUR
Brought to you by The Fresh Farms family, Morning Melon is the perfect blend of Honey Dew, Watermelon, and Cantaloupe flavors, coupled with a hint of sweet minty goodness that is sure to leave you refreshed, like that first barefoot step into dew-covered grass. Light but flavorful, Morning Melon is a lock for your next "all-day vape". Taste the love.



Brand:

 Fresh Farms 


VG/PG Mix:

  65/35


VG Percentage: 

65%


PG Percentage:

 35%


Volume:

  50ml zero nicotine


Country of Origin:

United States Of America