ANY 3 - ANY 5 - DEAL - Frukt Cyder Full Range- E Liquid 70vg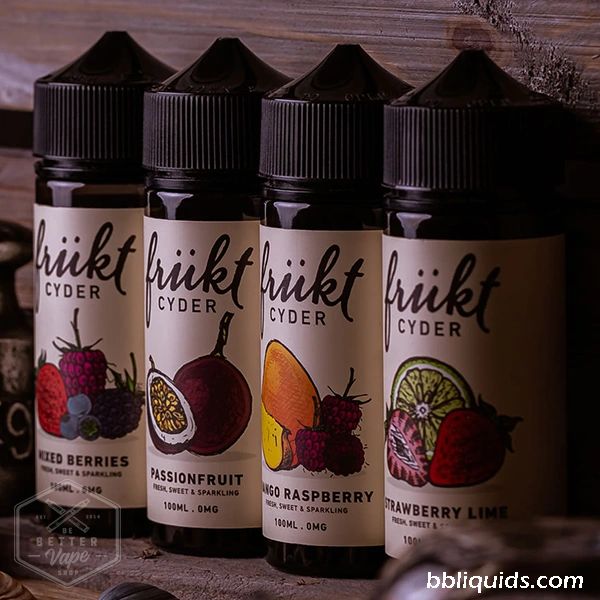 ANY 3 - ANY 5 - DEAL - Frukt Cyder Full Range- E Liquid 70vg
100ml 70VG - 0MG, 3MG & 6MG nicotine Via Nic Shots - FREE same day shipping with bbliquids.
Please pick either any 3 deal to receive 3 bottles of your choice, or any 5 deal to receive 5 bottles of your choice. SAVE MONEY with multi-order discount
(This e liquid will only work inside any sub ohm device)
MANGO RASPBERRY by FRUKT CYDER

Ripe mango and wild raspberries combine to create the ultimate summer vibe! A truly delicious vape with both fruits clearly identifiable on both the inhale and exhale, this fruit cider inspired flavour is unlike anything you have tried before!
MIXED BERRIES by FRUKT CYDER
This classic cider flavour has been expertly recreated in vape form. A combination of wild berries including blueberries and raspberries will leave you refreshed and craving more of this fresh and juicy beer garden favourite!
PASSION FRUIT by FRUKT CYDER
The fragrance of ripe passion fruit is instantly recognisable in this crisp all-day-vape. A sweet, tropical infused flavour with a unique cider twist is perfect in all weathers!
STRAWBERRY & LIME by FRUKT CYDER
One of the greatest all-time fruit cider flavours, Strawberry & Lime is sweet, refreshing vape bursting with flavour which will instantly have you longing for those summer days in the beer garden!
PLUM RED APPLE by FRUKT CYDER
The juiciest plums are perfectly complimented by freshly-picked, crisp red apples in this beautifully refreshing new addition to our classic cider range.
PEACH APRICOT by FRUKT CYDER
Packed with juicy, refreshing sweetness, you can enjoy the comfort of this expert blend of juicy peaches and delicious apricots all year round, come rain or shine.


Brand: 
 Frukt
VG/PG Mix:

  70/30


VG Percentage: 

70%


PG Percentage: 

30%


Volume:

  100ml x 3 or 100ml x 5


Country of Origin: 

UK