100ml Just Say i Believe - Sweet Fruity Lemonade Range - 70VG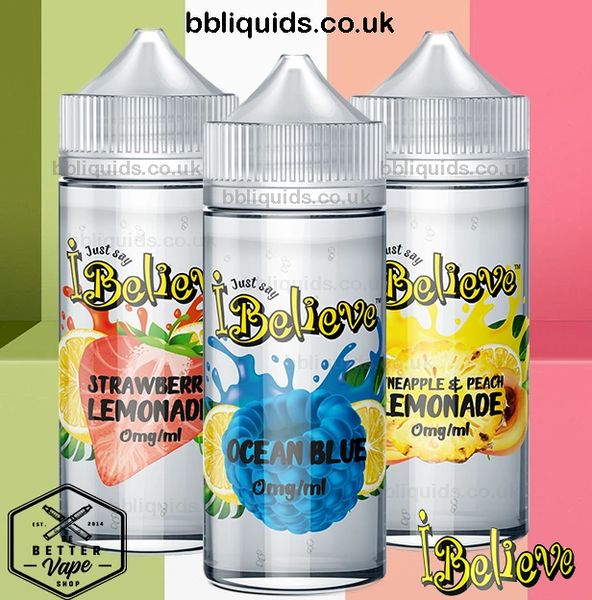 100ml Just Say i Believe - Sweet Fruity Lemonade Range - 70VG
I believe e liquids, 100ml bottle 80ml of e liquid inside, this item is available in 0mg & 3mg - BBliquids offers free same day shipping on all items.
FLAVOURS 
Pineapple & Peach Lemonade
Sweet sugary pineapple and luscious peach, partnered with a tangy lemonade finish.
--
Strawberry Lemonade
Summer strawberries enriched in a divine lemonade drink for a mouth watering experience.
--
Peach & Kiwi Lemonade 
Crisp pears matched with ripe kiwi, these two amazing flavours are married with a fizzy lemonade.
--
Ocean Blue
Succulent blueberries blended perfectly into a lemonade. Mixes of a sharp citrus finish to create a perfect summer vape.
--
Lemonade
A zesty lemonade with an added fizz, a timeless classic!
--
Triple Melon Lemonade
Not one, not two but THREE! Triple melons packs a fruity punch with a lush lemonade finish, perfect for watermelon lovers.




About The King of Vapes ( I BELIEVE )
This item is made in the Uk , This brand uses a double shot of flavour inside each bottle, creating a truly impressive explosion of flavour. They are the perfect e-juice to go with any sub-ohm setup.


Brand:

I Believe by The King of Vapes


VG/PG Mix:

  70/30


VG Percentage:  

70%


PG Percentage:

 30%


Volume:

  100ml


Country of Origin:

United Kingdom