.50ML x 3 IVG - TOBACCO - ANY 3 DEAL - E Liquid 70vg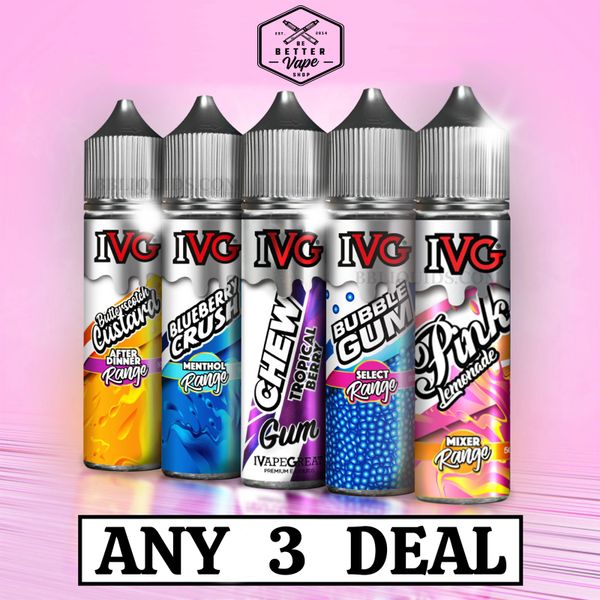 .50ML x 3 IVG - TOBACCO - ANY 3 DEAL - E Liquid 70vg
50ml 70VG - 0MG, 3MG & 6MG nicotine - FREE same day shipping with bbbliquids
YOU WILL RECEIVE 3 X 50ML IVG BOTTLES
(This e liquid will only work inside any sub ohm device)
AFTER DINNER RANGE


APPLE BERRY CRUMBLE 
Traditional English crumble with rich apple and blackberry filling.
BUBBLEGUM CUSTARD
A unique blend of mouth watering bubblegum and cream,
finished with a vanilla custard.
BUTTERSCOTCH CUSTARD
Smooth custard laced with velvety toffee butterscotch.


COOKIE DOUGH 
We all love cookie dough with a hint of vanilla, right?
Perfect all day vape for cookie dough lovers!


JAM ROLY POLY
Roll up and indulge yourself in this classic British jam pudding.


LEMON CUSTARD 
Smooth and buttery custard complimented with zesty lemon infused
with a creamy touch of vanilla.


NUTTY CUSTARD 
A beautiful combination of nuts blended with notes of caramel
mixed in a creamy vanilla custard.
CHEW RANGE


CINNAMON BLAZE 
A combination of sweet and spicy cinnamon blended to perfection.
This treat will have your taste buds oozing for more.
PEPPERMINT BREEZE 
Balanced to a chew! The combination of the finest mints infused into chewing gum brilliance!
This incredible flavour will leave you with a nostalgic experience.


STRAWBERRY WATERMELON
Nothing Beats the mouth-watering taste of strawberries and watermelons,
leaving you with the perfect burst of juiciness.


TROPICAL BERRY 
This flavour brings together tropical fruits and berries with the perfect amounts of gum,
bringing you your favourite classic chewing gum.
CLASSIC RANGE


BLUE RASPBERRY
Mouth-watering fresh blueberries and raspberries treat, with a subtle slush effect.


COLA ICE 
Your all time favourite fizzy cola, served with ice.


NEON LIME 
Lemon and lime sherbet with a cool refreshing exhale.


PINK LEMONADE 
Pink grapefruit with a tangy but sweet lemonade exhale.


PURPLE SLUSH 
Black grapes, lime, and bubblegum with a refreshing slushy effect.


STRAWBERRY SENSATION 
A delicious mix of fresh strawberries and sweet candy with a touch of natural cooling.


SUMMER BLAZE
Sicilian style cool lemonade, infused with mixed summer berries.
MENTHOL RANGE


BLUEBERRY CRUSH 
Treat yourself to a refreshingly sweet blueberry candy.


CHERRY WAVES 
The refreshing taste of fruity cherries along side a huge blast of menthol.


RAINBOW BLAST 
Inspired by your favourite sweets that will give you an amazing sour taste of mixed fruit candy.
MIXER RANGE


CITRUS LEMONADE 
Handpicked sour grapefruits infused with the zest of oranges & lemons,
creating a natural tangy citrus lemonade. A true all day vape.


FRESH LEMONADE 
A handful of freshly squeezed ripe lemons blended with a dash of sugar for sweetness,
a brilliant yet simple classic lemonade that's perfect for any occasion.


HONEYDEW LEMONADE 
Juicy honeydew melon puree combined with freshly squeezed lemon juice,
garnished with crushed ice. A truly mouth-watering vape.


RIBERRY LEMONADE 
A perfect blend of crushed blackcurrants and wild berries paired with refreshing lemonade,
an extremely satisfying taste.
SELECT RANGE


BLACKCURRANT 
Sweet blackcurrant candy, infused with bubblegum wave to surf your taste buds.


BUBBLEGUM 
That amazing bubblegum taste, which will bring your childhood memories back
with a refreshing exhale.


COLA BOTTLES 
Just like the ultimate retro cola bottle sweet with a mouth watering cola sweet taste.


RASPBERRY STIX 
Oozing with succulent strawberry bubblegum, these candies are the perfect
way to indulge a sweet tooth.


SPEARMINT
Fresh punch of spearmint to tantalise your senses with a hint of bubblegum.


STRAWBERRY 
Oozing with succulent strawberry bubblegum, these candies are the perfect
way to indulge a sweet tooth.
TOBACCO RANGE


GOLD TOBACCO 
Our natural blend of the smoothest Virginia tobacco, with a warm undertone of cream and an essence of black truffle.


RED TOBACCO
Our exclusive fruity tobacco with hints of spiced apple, berries, and a hint of French vanilla.


SILVER TOBACCO 
The perfect blend of natural smokey tobacco, caramelised with a sweet aftertaste of honey.
Brand: 

 IVG


VG/PG Mix:

  70/30


VG Percentage: 

70%


PG Percentage: 

30%


Volume:

  50ml x 3


Country of Origin: 

UK