1. 60ml x 3 Mix Man E Liquids - PICK ANY 3 - 70VG 0mg 3mg bbliquids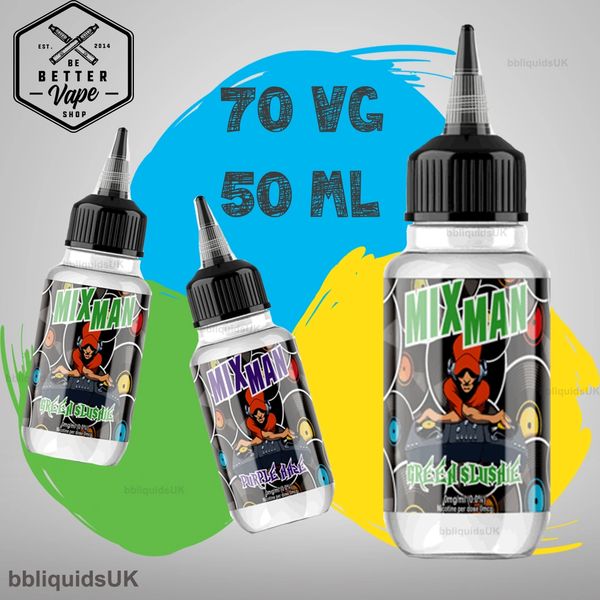 1. 60ml x 3 Mix Man E Liquids - PICK ANY 3 - 70VG 0mg 3mg bbliquids
PURPLE HAZE OUT OF STOCK
RASPBERRY APPLE OUT OF STOCK


UNBELIEVABLE POWERFUL FLAVOURS
  - FREE SHIPPING
3 x 60ml bottles with 50ml liquid inside - This void is used to accommodate a nicotine shot. 


About Mix Man

Mix Man us a premium UK based company which uses I LOVE VG concentrates to bring you unbelievable tastes without the heavy price of I LOVE VG.


GUAVA PEACH
Tropical guava and luscious peach to tantalise you taste buds.


PHAT MAN
Malaysian inspired sweet mango with an icy exhale.


PINEAPPLE EXPRESS
Pineapple and lots of it, all aboard !!


VIMTY
Juicy grapes,raspberries and blackcurrants.


DJ WALTER
Mixed berries and menthol (
Heisenberg).


PURPLE HAZE
 A red berry, black berry, fruity undertone with overtones of sweet eucalyptus, aniseed and a cool crystal menthol



GREEN SLUSHIE
Juicy limes with crushed ice.


RASPBERRY APPLE
Green apples and red raspberries.










Brand: 

Mix Man


VG/PG Mix:

  70/30


VG Percentage: 

70%


PG Percentage: 

30%


Volume:

  50ml x 3


Country of Origin:

UK