1. Any 3 Bottles - Nasty Juice - 50/50 SERIES - 6mg 12mg 18mg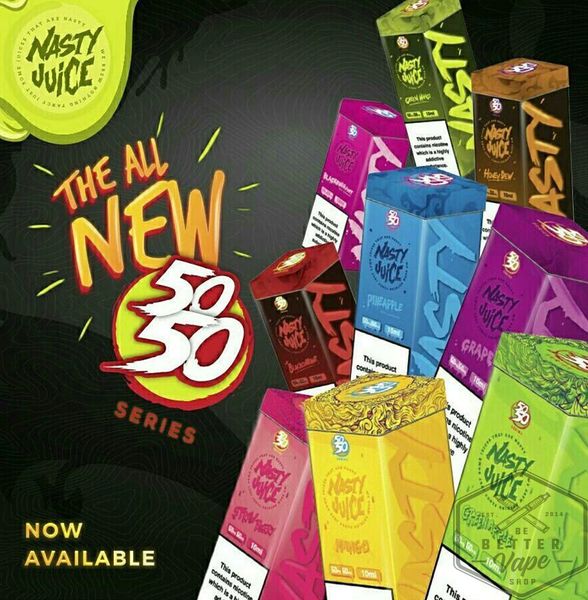 1. Any 3 Bottles - Nasty Juice - 50/50 SERIES - 6mg 12mg 18mg
The new 50/50 series by nasty Juice
Pick your any 3 10ml flavours


About Nasty Juice




This item is made in Malaysia , This fruity series is their latest range of 50/50 e-liquids designed for great clouds and amazing flavour. They are the perfect e-juice to go with any device made for vaping. Please note all Nasty Juice flavours have an extremely small hint of mint.
ASAP GRAPE / GRAPE
                      Grape by Nasty Juice is a black grape combined with ripe berry and other fruits alike produces this delicious grape juice. The bitter exhale taste of grape is topped with the taste of berry to create a taste that you will never get bored of.
BAD BLOOD / BLACKCURRANT
Blackcurrant by Nasty Juice is one of the most sought-after fruity flavours worldwide market especially in the UK is brewed to perfection. The sweet earthy blackcurrant flavour mixed with low mint resulted in a superbly refreshing feel and clouds.
WICKED HAZE / BLACKCURRANT WITH LEMONADE
Blackcurrant Lemonade by Nasty Juice is a mix of Blackcurrant and Lemonade that creates an incredibly extraordinary exhale taste. The Lemonade layer is perfectly blended without overdoing it, creating a heavenly feel. Taste the blackcurrant when you inhale and the non-brackish lemonade when you exhale, you will definitely be impressed at first inhale! To us, this combination is just perfect!
CUSH MAN / MANGO
You'll never find this one of the best fruity-taste of this mango flavoured e-juice. The authentic taste with a pleasant aroma will boost your appetite. This is one of the must try flavour recommended by out regular and reliable customers. Don't miss it!
GREEN APE / GREEN APPLE
Experience the goodness from this mild yet flavourful apple e-juice. The just right of the sweetness and a little hint of tanginess of an apple that you used to eat best describes how real the taste of this flavour. Take a 'bite' of an apple with Nasty Juice!
SLOW BLOW / PINEAPPLE WITH LEMONADE
Pineapple by Nasty Juice is a pineapple layered with lime soda that will surely make you taste its freshness without getting bored! The thin pineapple slice ensures you enjoy inhaling it until its last drop.With its mild and fresh taste, this juice is created for your daily vaping flavour.
TRAP QUEEN / STRAWBERRY
Strawberry by Nasty Juice contains a flavourful ripe strawberry fruit freshly harvested from farm. You'll be thrilled with the freshness and the sweetness that will make you feel like you're in a strawberry farm. Give it a shot!
Nicotine Strengths:

6mg / 12mg / 18mg
Country of Origin:

Malaysia