ANY 5 DEAL - PUKKA JUICE - 50/50 SERIES - 10ML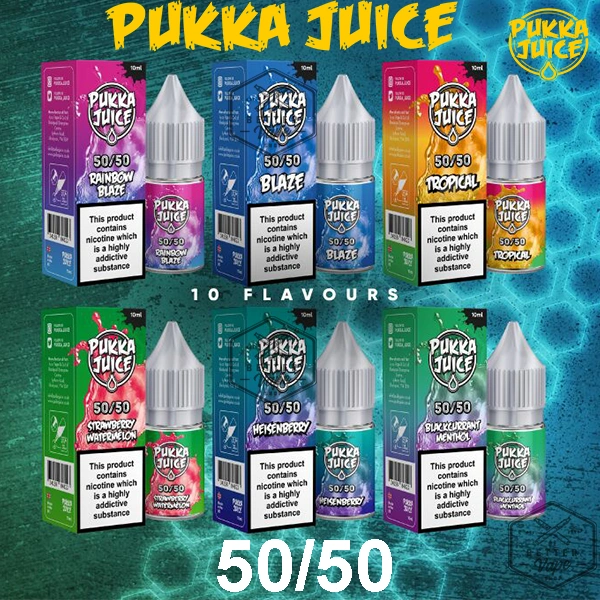 ANY 5 DEAL - PUKKA JUICE - 50/50 SERIES - 10ML
10ml x 5 50VG - 3mg / 6mg / 12mg  nicotine - FREE same day shipping with bbbliquids
(This e liquid will work inside any e-cigarette device)
Blaze - Blueberry, Raspberry, Menthol.
Rainbow Blaze - Fruity Candy & Cooling.
Tropical - Kiwi, Watermelon, Peach & Cooling.
Tobacco
Berry Blaze - Berries, Blackcurrant & Sour Blue Raspberries.
Strawberry Watermelon
Triple Menthol - Powerful
Raspberry Menthol
Blackcurrant Menthol
Black Jack - Aniseed Candy
Berry Lemonade - Blackcurrants, Mixed berries & Lemonade
Pink Haze - Mixed Berries, Grapefruit & Citrus.
Cherry - Sweet candy cherries.
Breaking Berry - Aniseed, Menthol & Blue Raspberries.
Blue Slush - Blueberry Slushie Drink.
Tobacco Blue Menthol - Tobacco with powerful menthol.
Tobacco Menthol - Tobacco with balanced menthol.


Pukka Juice
A company that has won so many awards, they have generally lost count!, known for amazing fruit flavours, this brand is guaranteed to knock your socks off with flavour and quality.
Brand:  Pukka Juice
VG/PG Mix:  50/50
VG Percentage:  50%
PG Percentage:  50%
Volume:  10ml x 5
Country of Origin: UK