150ML Pukka Juice - ANY 3 DEAL - E Liquid 70vg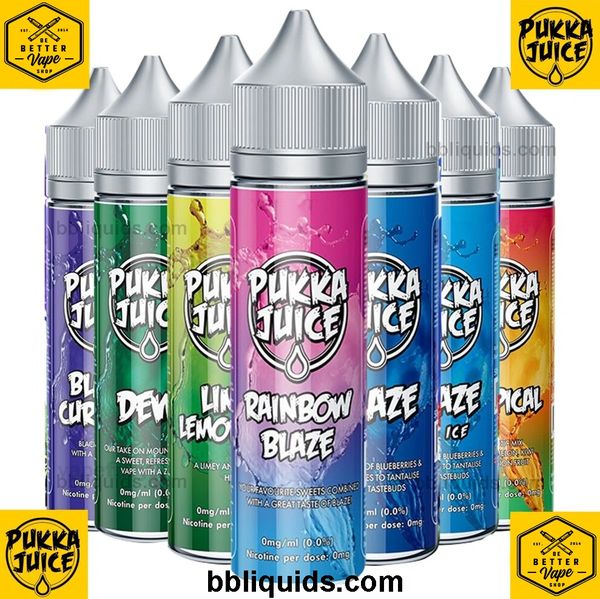 150ML Pukka Juice - ANY 3 DEAL - E Liquid 70vg
50ml 70VG - 0MG, 3MG & 6MG nicotine - FREE same day shipping with bbbliquids
(This e liquid will only work inside any sub ohm device)
YOUR WILL RECEIVE 3 X 50ML BOTTLES + NICOTINE SHOTS IF SELECTED
BERRY BLAZE 
A fusion of bold, rich blackcurrant and bittersweet blue raspberry is countered on exhale
by a cooling ice for a layered vape, which plays between juicy and sharp flavours.


BLACKCURRANT 
The dark blackcurrant flavour is consistent throughout with a twist of zesty and cooling lime
on exhale for a sweet yet vape.


BLAZE 
The combination of sharp blueberry and sweet raspberry on inhale is
balanced out by a fresh-tasting ice on exhale for a distinct eliquid.


BLAZE NO ICE 
Fruit blend which sits perfectly between sweet and sour, without the menthol hit.
Ripe-tasting raspberries characterise the inhale, whilst a slightly tart blueberry flavour aids a tangy after bite.


DEW 
A zesty partnership of lemon and lime is fused with a sugary soda,
before being topped by a chilled ice for an authentic slush-like flavour.


LIME LEMONADE 
Citrus blend with an icy kick. A fresh-tasting lemonade and zesty lime is complemented
by a cooling ice for a balanced e-liquid.


MANGO
An exotic mango experience that will whisk you away!


RAINBOW BLAZE
A sweet rainbow candy base is consistent throughout, combined with a juicy berry taste
and finished off with a crisp menthol for a complex vape.


SUMMER FRUITS
Fruit medley containing a sharp zitrus twang. On inhale,
the sweet taste of mixed berries are present before a zesty lime completes for a balanced vape.


TROPICAL 
Watermelon, kiwi, passion fruit and peach is finished off by a light yet crisp ice for a complex flavour.


Brand: 

 Pukka Juice


VG/PG Mix:

  70/30


VG Percentage: 

70%


PG Percentage: 

30%


Volume:

  50ml x 3


Country of Origin: 

UK