Innokin Endura T18E Vaping Kit - 1000mAh - Full Starter Kit + 2 Liquids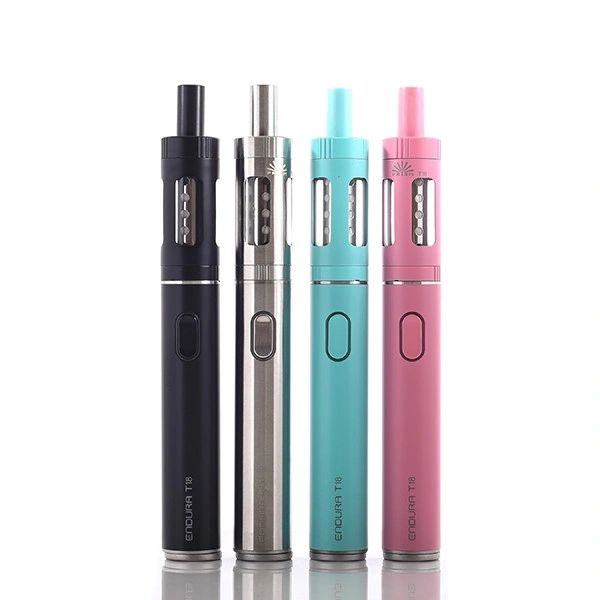 Innokin Endura T18E Vaping Kit - 1000mAh - Full Starter Kit + 2 Liquids
Before use, please insure that the coil it primed, leave for 5 minutes when inserting a new coil (with liquid) for best results.
Our Innokin T18 E coils are used for this device - 60-VG max
This item is fully TPD compliant with new UK government standards

The Innokin Endura can deliver a superior experience in a compact, durable and affordable all-in-one kit.
Crafted with top quality materials, this is a 1 button, easy to fill and easy to use affordable advanced personal vaporizer. It's also durable, compact and stylish.
Optimized at 14 Watts with 1.5Ω replaceable coils, it delivers in terms of vaping every time.
The Endura T18 Pyrex and stainless steel 2.0ml tank is top-fill for quick and clean refills, while the Japanese organic cotton wicking material delivers maximum flavours from your favourite e-liquids.
Advanced integrated safety protections guard against overheating and over discharge and improve charging safety and overall reliability.
With 1000mAh of real battery capacity, it can be conveniently charged via standard Micro USB cable and features Innokin's 'Vape While Charging' technology for a daily vaporizer that you can rely on.
This all in one vaporizer solution is beautifully packaged (24mm thick).
Please click on specifications tab for this product's manual.
Specifications
Battery: 1000mAh, 7C continually
Standby current: 10 uA max
Maximum output Wattage: 14W
Maximum output Current: 3.5A
Maximum output Voltage: 5.5V
Clearomizer Resistance: 1.2 ~ 2.5Ohm
Charging: Micro USB