1. King of Vapes 60ml (180ml) - Any 3 - E Liquid 0mg 3mg 70VG bbliquids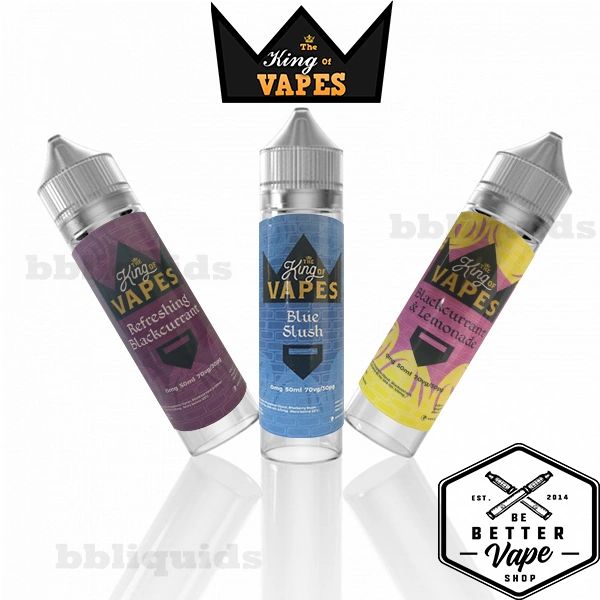 1. King of Vapes 60ml (180ml) - Any 3 - E Liquid 0mg 3mg 70VG bbliquids
King of vapes 60ml 0mg - 70VG -  FREE same day shipping with bbliquids


When purchased you will receive - 3 x 50ml Bottles 
3 x nicotine shots will be provided when 3mg is selected 
6 x nicotine shots will be provided when 6mg is selected 
About The King of vapes
This item is made in the UK, This series includes a huge amount of flavour that can not be replicated by any other liquid at this price range. Rest assured that you will be in awe by that taste provided by this range. Designed for great clouds and amazing flavour. They are the perfect e-juice to go with any sub-ohm setup.
Flavours
Apple Slush Ice
Tantalising green apple in the form of an ice slushy
Banana Milkshake
 

Classic banana flavoured milk drink, cold creamy and refreshing
Blackcurrant Drink
The drink that we all love starting with "R"
Blackcurrant Ice
Sweet and tangy blackcurrants mixed with a tiny amount of menthol
Blackcurrant Jam
Super sweet and sugary blackcurrant jam
Blackcurrant & Lemonade
Sweet and tangy blackcurrants mixed with a few fizzy bubbles
Blue Cloud
Heisenberg – berries and menthol with low aniseed
Blueberry Jam
Super sweet and full of flavour, blueberry jam at its best
Blueberry menthol
Bold and sweet blueberries mixed with a kick of menthol
Blue Slush
Fan favourite, blueberries with some refreshing ice slush
Bubble Gum
Classic 80's round bubble gum sweets, what's not to love!
Cherry Cola
The word renowned cherry cola drink that you enjoy on a summers day
Cherry Menthol
Signature cherries with menthol
Cornflake Tart
Perfectly backed cornflake tart drizzled with strawberry jam
Delitedew (Made in Malaysia)
Refreshing honey dew melon with the classic Malaysian cooling effect
Devils Custard
Biscotti ice cream with vanilla custard
 Forest fruits
Exactly what is says on the tin – all the best berry mixed together for a flavour explosion 
Grapala (Made in Malaysia)
Powerful grape taste with a hint of apple and cooling effect.
Grape vape
Intense grape flavours
Green Slush
A very fruity lime slush with no harsh vape
Guavarita (Made in Malaysia)
Guava mixed with a fruit energy drink and cooling effect.
Honeydew Melon
Sweet and distinctive, it really does taste like the real thing!
Honey Snaps
Rice crispy squares with melted marsh mellow in the middle
Icy Mango
Mango with refreshing menthol, sweet and cool
Jack
Black soft chewy aniseed sweets
Jam on Toast
Strawberry jam on toast, you can even taste the butter!
Jam Rolly Polly
Cake and strawberry jam rolled together for the ultimate desert experience 
Jelliman
The little oval sugar sweets that you can't stop eating once the bag is open
Kick ass
Fresh tangy raspberries and ripe sweet red cherries (amazing)
Lemon & Lime
Citrus with a kick
Menthol
Menthol at its best - breezy and amazing
Neon Lime Green Slush
Lime and lots of it mixed with ice slush, don't worry it's not harsh, it's just right
Red devil
Mixture of red berries, grape and an intense kick for aniseed
Red Slush
Cherries and raspberries create a very fruity slush
Refreshing Blackcurrant 
Simple yet perfect, a true recreation of flavoursome blackcurrants
RUBY - Guava fizzy drink
Type - Ruby Guava if selected
RUBY -  Passion fruit fizzy drink
Type - Ruby Passion if selected
RUBY - Watermelon fizzy drink
Type - Ruby Watermelon if selected
Smokecurrant (Made in Malaysia) 
Ultra sweet blackcurrants with a cooling effect
 Sparkling Ice Grape
Grapes with a very small hint of menthol, refreshing and sweet
Sparkling Ice Orange
Orange with a very small hint of menthol, refreshing yet sweet
Strawberry & Kiwi Bubble Gum
Sweet strawberry and tangy kiwi mixed together with a hint of sweet bubble gum
Strawberry Milkshake
Fresh milk and sweet sugary strawberries 
Twister Lolly
Just like the Lolly we all love , tangy and sweet
Tutti Frutti
Open you bag of sweet for a fruit filled adventure, sort on the inside hard on the outside
Vimto Ice
The childhood favorite drink with a slight hint of menthol
Hizenbomb Range


Atomic Apple -

   Heisenberg & apple


Blueberry Blast -

   Heisenberg & blueberries


Cherry Bomb -

   Heisenberg & Cherries 


Less Menthol -

   Heisenberg with less menthol


Lethal Lime -

   Heisenberg & Lime



Coffee Range
Caramel Coffee -  

 Rich coffee beans with caramel


Espresso & Cream Coffee -

   Powerful coffee with a milky aftertaste 


French Vanilla Coffee -

   Sweet coffee mixed with super sweet vanilla


White Chocolate Coffee -

   Mix of hot chocolate with a hint of coffee



Kani King Range
Rainbow Worms - 

 Fruity gummy sweets dipped in sugar 
Raspberry Sherbet -  

Blended raspberries mixed with sour sugar









Brand:

 King Of Vapes


VG/PG Mix:

  70/30


VG Percentage:  

70%


PG Percentage:

 30%


Volume:

 50ml x 3


Country of Origin:

United Kindom