ALL KING OF VAPES FLAVOURS OUT OF STOCK - BACK IN STOCK VERY SOON 1. King of Vapes 60ml (180ml) - Any 3 - E Liquid 0mg 3mg 70VG bbliquids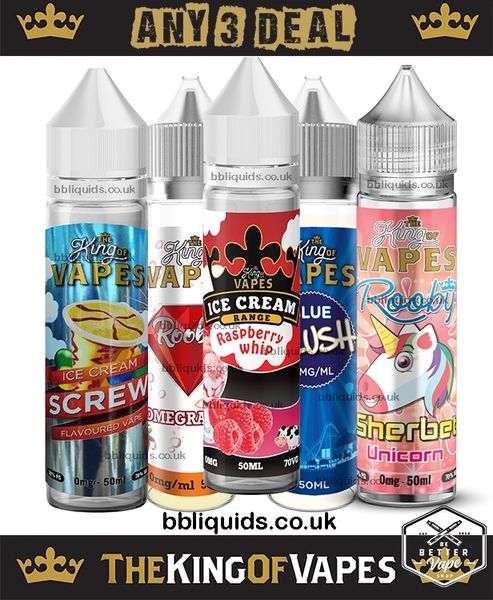 ALL KING OF VAPES FLAVOURS OUT OF STOCK - BACK IN STOCK VERY SOON 1. King of Vapes 60ml (180ml) - Any 3 - E Liquid 0mg 3mg 70VG bbliquids
King of vapes 60ml 0mg - 70VG -  FREE same day shipping with bbliquids


When purchased you will receive - 3 x 50ml Bottles 
3 x nicotine shots will be provided when 3mg is selected 

6 x nicotine shots will be provided when 6mg is selected 
About The King of vapes
This item is made in the UK, This series includes a huge amount of flavour that can not be replicated by any other liquid at this price range. Rest assured that you will be in awe by that taste provided by this range. Designed for great clouds and amazing flavour. They are the perfect e-juice to go with any sub-ohm setup.
Flavours
--
HEIZENBOMB RANGE
All HeizenBomb flavours have a menthol, aniseed hint.
Atomic Apple
Blueberry Blast
Cherry Bomb
Less Menthol
Lethal Lime
--
ICE CREAM RANGE
( all ice cream range out of stock)
Strawberry Cheesecake
Vanilla Caramel
Cookie Dough
Raspberry Whip
Mango Vanilla
--
ICE KING RANGE
All Ice King flavours have a menthol effect.
Ice King Kiwi
Ice King Rainbow
Ice King Mango
Ice King Blackcurrant
Ice King Orange Lemonade
--
MENTHOL RANGE
Menthol
Blueberry Menthol
Blackcurrant Menthol
Cherry Menthol
Strawberry Menthol
Strawberry Kiwi Menthol
--
CLASSIC RANGE
Blackcurrant Lemonade
Tutti Frutti
Blue Cloud
Black Jack
Kick Ass
Red Devil
Ice Cream Screw
Rainbow Sweets
(Now sherbet rainbow)
--
ROOBY SHERBET RANGE
Berry Sherbet
Mango Sherbet
Guava Sherbet
Jelly bean Sherbet

Passion Fruit Sherbet
Orange Sherbet
Strawberry Lace Sherbet

Raspberry Sherbet
Lemon Sherbet
Rainbow
--
ROOBY RANGE
A very sweet fruity fizzy pop range
Guava
Lychee
Mango
Passion Fruit


--
SLUSH RANGE
Purple Slush (Grape,Summer Berries)

Red Slush (Strawberry)

Blue Slush (Blueberry)
Green Slush (Lemon Lime)
--
VIMMY RANGE
The classic blackcurrant & grape childhood drink
Vimmy Strawberry
Vimmy Cola
Vimmy Cherry
Vimmy Grape




Brand:

 King Of Vapes


VG/PG Mix:

  70/30


VG Percentage:  

70%


PG Percentage:

 30%


Volume:

 50ml x 3


Country of Origin:

United Kindom