120ml Ultimate Puff - Shakes Range - 70VG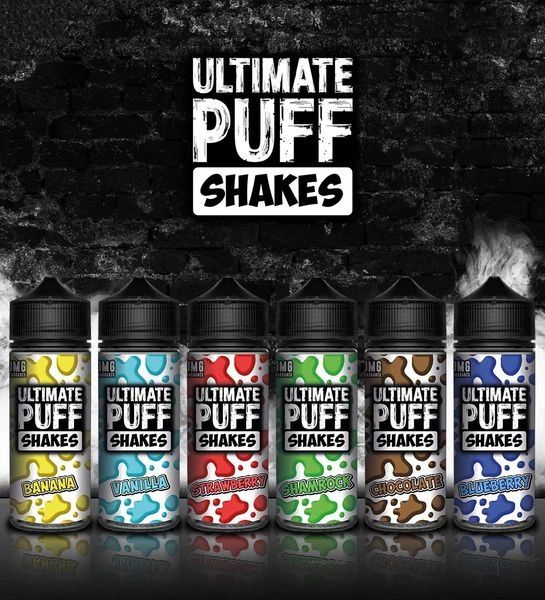 120ml Ultimate Puff - Shakes Range - 70VG
120ml bottle with 100ml of e liquid - Available in 0mg / 1.5mg / 3 mg / 6mg - This e liquid is only suitable for sub ohm devices. FREE same day shipping at bbliquids
If 1.5mg is selected you will also receive 1 x nicotine shot bottle.
If 3mg is selected you will also receive 2 x nicotine shot bottles.
If 6mg is selected you will also receive 4 x nicotine shot bottles.
Please note that if 6mg is selected, 4 nicotine shots do not fit inside the larger 120ml Ultimate juice bottle, please add 2 nicotine shots and add the remaining nicotine shot bottles after vaping a partial amount of ultimate juice. 
FLAVOURS


SHAKES BANANA
Tropical flavor with a ripe banana taste and a velvety finish that'll make you go Bananas. 


SHAKES BLUEBERRY 
The juiciest of blueberries leaving a sweet, tangy taste for a mouth watering vape experience. 


SHAKES CHOCOLATE 
Perfect calorie-free treat for all you chocoholics! Luxary sweet

chocolate with full fat milk, mmmmm



SHAKES SHAMROCK 
Mint shamrock shake that'll transport you to the emerald isle and leave your taste-buds feeling brand new. Sweet mint with a creamy after tone. 


SHAKES STRAWBERRY 
Sumptuous blend of freshly picked strawberries in a creamy shake will bring everyone to the yard! 


SHAKES VANILLA 
Deliciously smooth vanilla shake that'll leave you thirsty for more. 
Brand:

 Ultimate Puff 


VG/PG Mix:

  70/30


VG Percentage: 

70%


PG Percentage:

 30%


Volume:

  100ml zero nicotine


Country of Origin:

United Kingdom