120ml Ultimate Puff - Sherbet Range - 70VG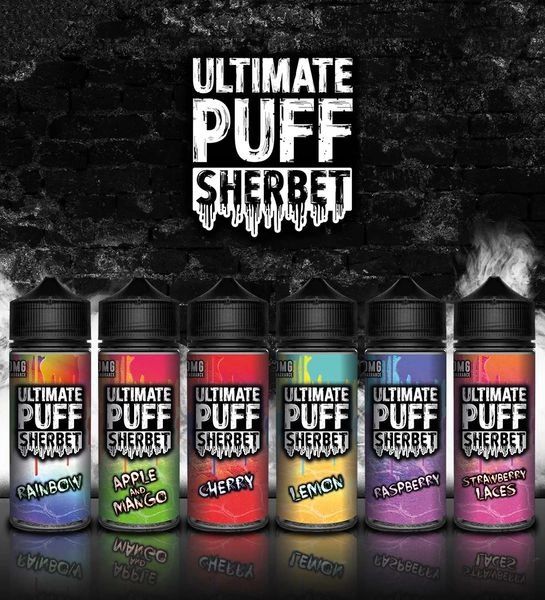 120ml Ultimate Puff - Sherbet Range - 70VG
120ml bottle with 100ml of e liquid - Available in 0mg / 1.5mg / 3 mg / 6mg - This e liquid is only suitable for sub ohm devices. FREE same day shipping at bbliquids
If 1.5mg is selected you will also receive 1 x nicotine shot bottle.
If 3mg is selected you will also receive 2 x nicotine shot bottles.
If 6mg is selected you will also receive 4 x nicotine shot bottles.
Please note that if 6mg is selected, 4 nicotine shots do not fit inside the larger 120ml Ultimate juice bottle, please add 2 nicotine shots and add the remaining nicotine shot bottles after vaping a partial amount of ultimate juice. 
FLAVOURS


SHERBET - APPLE AND MANGO 
The juiciest Apple and Mangoes combined in this fresh and fruity sherbet!


SHERBET - CHERRY 
Taste-bud tantalising flavor featuring fizzy cherry sherbet! An awesome, juicy vape with an exhale that lingers on the tongue!


SHERBET - LEMON 
A fine tuned taste with just the right amount of tangy sherbet without being overly tart that the light lemon flavor is hidden behind the sweetness.


SHERBET - RAINBOW 
Rainbow e liquid let's you experience the whole spectrum of flavors with this heavenly rainbow sherbet! Indulge in this heavenly concoction featuring an array of sweet candies.


SHERBET - RASPBERRY 
Raspberry e liquid is a refreshing concoction featuring the ripest of raspberries alongside a sweet sherbet exhale that dances around your taste buds and nicely coats your mouth with Raspberries.


SHERBET - STRAWBERRY LACE 
Strawberry Laces e liquid is a sensational strawberry sherbet flavor that tastes just like the old school sweet! A spectacular mouth watering liquid that'll quickly become your daily vape. 
Brand:

 Ultimate Puff 


VG/PG Mix:

  70/30


VG Percentage: 

70%


PG Percentage:

 30%


Volume:

  100ml zero nicotine


Country of Origin:

United Kingdom