1. 700ml - Vape It - ANY 7 - Huge Range - bbliquids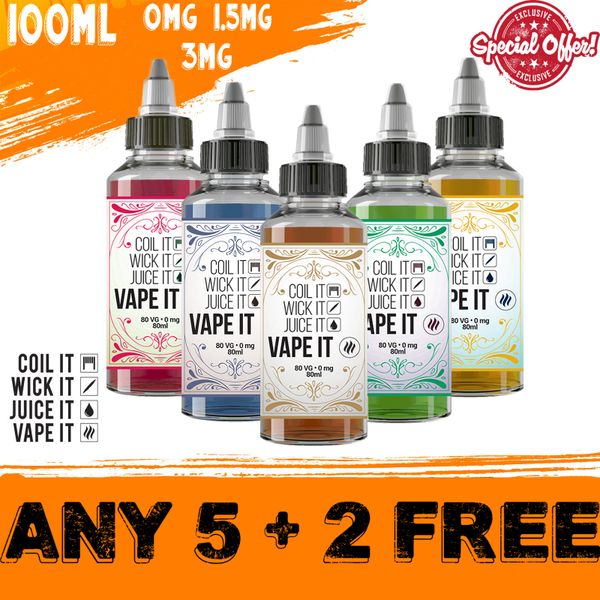 1. 700ml - Vape It - ANY 7 - Huge Range - bbliquids
Vape It - 100ml bottle - 80ml of e liquid inside to accommodate nicotine shots
You will receive 7 x 100ml Bottles (80ml liquid inside) 
Premium Nicotine shots provided (if selected) 0mg,1.5mg,3mg,6mg
Simply tell us what 4 liquids you want

About VAPE IT
Vape it uses the best UK made ingredients available, we have travelled far and wide to bring you the best flavours at the best prices!
All our flavours are professionally steeped for 3 weeks in a temperature controlled cool room for maximum taste. Vape It labs prides itself for high quality, unrivalled bottling, hygiene  and customer satisfaction.
Vape It has also won awards for best taste in multiple categories.


FLAVOURS 


BLACK JACK
BLUE SLUSH

BLUEBERRY

CHERRY DROPS (Cherry Sweets)
DOUBLE APPLE
FRUIT SALAD CHEWS 
GRAPE
HEISENBERG
ICE MENTHOL
MINT
MOTHERS MILK ( Cream, Strawberries, Custard undertone)
ORANGE
PEACH
PINEAPPLE 
PINK LEMONADE
RED A (Berries, Slight Menthol & Aniseed) 
RED SLUSH
RY4 ( Tobacco, Vanilla & Caramel)
SHERBET LEMON

SPEARMINT

STRAWBERRY

TOBACCO

TWISTER ICE LOLLY

VIM2









Please note that you will have to use some e liquid if 6mg is selected as 4 nicotine shots so not fit inside the bottle, we recommend adding 2 nic shots until there is enough room to fill the remaining two.






Brand:

 Vape It


VG/PG Mix:

  80/20


VG Percentage: 

80%


PG Percentage:

 20%


Volume:

  80ml zero nicotine


Country of Origin:

 UK